REVIEW: Catrice's Even Skin Tone Beautifying Foundation in 010 Even Vanilla
2:42 AM
Hi there!
How are you feeling today?
I hope you guys are doing fine :D
Today I'm gonna share about my favourite drugstore brand;
Catrice Cosmetics!
Okay, I am not the type to actually wear liquid foundation on daily basis.
Usually I would just use some concealer to conceal my flaws and dab some powder.
That's it.
However, lately I realized that using a concealer would cost me more.
(due to it's small size -.-)
Thus, I have opt to find a good foundation to cover my flaws and imperfections.
I know it may sound weird like
"This girl don't wear foundation??"
Or maybe not.
Haha.
So, here's my honest review on this product. It took me some time to actually decide on whether to get this or a high end foundation. I thought I may give it a shot though and I have no regret :p
Alright,
here's the details of this lovely foundation!
Catrice's Even Skin Tone Beautifying Foundation
Covers pigmentation marks, irregularities and redness
Visibly brightens pigmentation marks*
Silky-matt, smooth finish
Available in 4 Different Shades:
005 Even Ivory, 010 Even Vanilla, 020 Beige Rose, 030 Even Sand
(picture and swatches will be shown in the last post for all shades)
Catrice's Even Skin Tone Beautifying Foundation in 010 Even Vanilla
It came in a pump shape tube which is quite practical for me!
This foundation claimed that the creamy texture of the Even Skin Tone Beautifying Foundation contains an SPF of 25 and offers medium to high coverage. A dermatological study confirms: after just 8 weeks of daily application, the Even Skin Tone Beautifying Foundation visibly brightens pigmentation marks.* The long-lasting, pampering texture also instantly covers colour irregularities and redness for a silky-matt, smooth skin tone. For a perfect, radiant complexion!
Thw brown stain look under the foundation is actually my bruise. Sorry :p
So this is how it looks like upon application on my hand.
The texture is not too watery like some foundation I've tried before and it is easy to blend which is great!
My bruises disappear!
This is how it looks like upon blending.
It was able to cover up my bruises mark!
Gosh! Haha!
I'm sorry if I'm being funny here but I guess the bruises mark can be a point to show how cool this drugstore brand is isn't? :p
Okay to be honest, you may not be able to see it clearly here but, when you blend it, it's slightly tinted. Or that's how I feels. It's kinda like give your skin a "glowy and dewy" look :D
This is how it looks like on my skin.
I only put the foundation and a dab of powder to mattify the skin.
Love how it helps in reducing the redness and covering my thread veins on my face.
(Yes, I have a thread veins -- not a major one but minor)
This foundation does not gives a full coverage but more for light to medium coverage which suits me.
So far I am loving this Catrice Foundation!
Pro:
+ Affordable Drugstore Brands
+ Great light to medium coverage
+ Easy to blend
+ Not too watery
+ Great texture
Cons:
- Not suitable for full coverage
- Hard to find in Malaysia Drugstore shops
Oh ya!
Here's the list of swatches for the other shades :D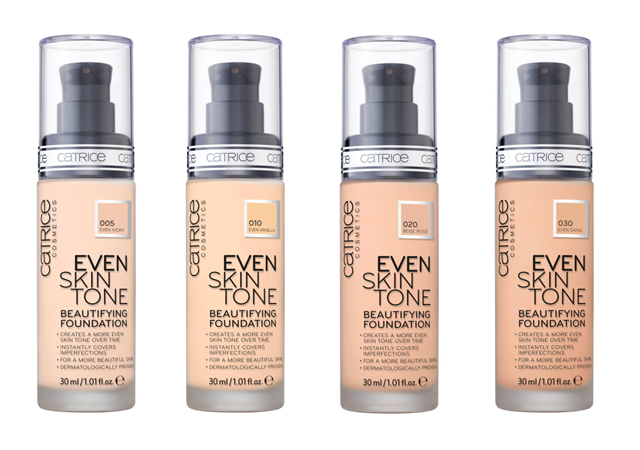 From Left to Right: 005 Even Ivory, 010 Even Vanilla, 020 Beige Rose, 030 Even Sand
Swatches of the foundation. Credits goes to the rightful owner :)
For Malaysian that interested on giving this product a try, you can find it in Guardian Malaysia :)
Although I have to admit, finding this foundation would be a pain in the neck.
I was lucky to find it in Lot 10's Guardian. You can find it there too if you're from KL!
That's all for now.
If you have a great drugstore brand that you love, don't hesitate to share!
I'd love to give it a shot :)
Love,
Ai Ai
xoxo